One Length! One Swing! Cobra has released the long awaited F7 One Length Irons. One Length Irons have been inspired by PGA star Bryson DeChambeau. Below is Bryson explaining the philosophy and technology behind the iron.
Why try One Length?
When we look at golfers set up there are lots of different variables including foot positioning, spine angle as well as ball position. These variable changes as you switch between longer and shorter irons thus potentially causing more room for error. With 'One Setup' and 'One Swing' you can simplify the process. Every golfer has their favourite club and for many it is a 7iron. With these irons you will find new confidence in your game allowing you to play any iron as if it were your trusty 7-iron.
F7 One Length Irons
GAME IMPROVED
LONG IRONS FOR MORE CONSISTENT DISTANCE
TIGHTER SHOT DISPERSION ON APPROACH
SHORT GAME ACCURACY IMPROVEMENT
Try One Length
We at Duncan Lambert Golf are an authorised Cobra Custom Fit retailer. We offer a Complete Fitting Service on all current Cobra Irons in addition the Woods and Wedges. Click on the picture to below to read more about why we custom fit and the process of club fitting.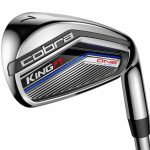 Michael Townsend, PGA Professional and Head of Fitting at Duncan Lambert Golf had this to say about the new Cobra Iron. "Cobra has produced an exciting game improvement iron, which is easy to use and has simplified the game to the customer."
Specifications
The standard irons will come in 37.25″ whether you have the set fitted in Steel or Graphite Shafts. Should you need your shafts longer or shorter each iron would match that specification. For example if you were 1 inch longer all the irons would be 38.25 inches. The overall aim of these irons is to make the game simpler and easier to play. The only way to find this out is to come and book a fitting yourself at Duncan Lambert Golf.