Effortless Launch! Maximum Distance! That's what the Yonex Ezone Elite Irons can offer in high quality performance Golf Equipment. As well as the Irons, Yonex offer matching Driver, Fairway Woods and Hybrids to complement the set.
 The Ezone Elite iron features innovative Octaforce technology. In simple terms, this technology creates faster ball speeds and maximum distance. Octaforce technology has allowed Yonex to lower the centre of gravity and increase face flex across all areas of the club face.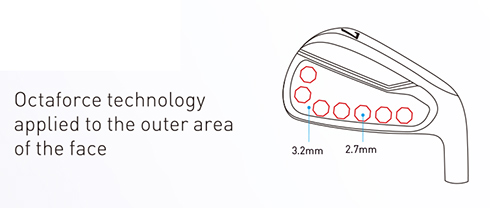 In addition, Yonex have cut a deeper cavity in the iron to enlarge the sweet spot. Great news for Golfers searching for maximum forgiveness in their irons.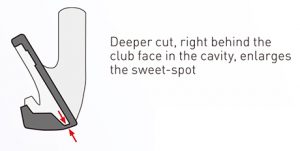 For those using Graphite shafts, Yonex have made their M60 Light Shaft, three grams lighter. This means the golfer has additional energy transfer for pure ball striking and increased acceleration.
Ezone Elite Driver
Like with the irons, the Driver features  Octaforce Technology in the club face as well as the crown. The driver then has a lower & deeper centre of gravity for lower spin and a higher launch for greater distance. It also features the Quick Adjust System. The Quick Adjust System allows you to refine the loft angle from ±1.5° and club face angle through 8 settings for the ideal launch trajectory. Available on the EZONE ELITE Driver, you now have the adjustability to conquer even the most demanding holes on the course.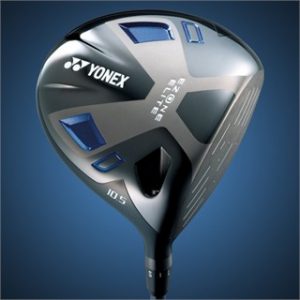 Ezone Elite Fairway Woods & Hybrids
Both feature the same technology as the Driver, just without the Quick Adjust System. Fairway Woods are available in 3 & 5 Wood for men whilst the Hybrids go from 3, 4 & 5. Lady Golfers have the additional option of a 7 Fairway Wood whilst in the Hybrids, Yonex offer 4, 5, 6 and 7 Hybrid. So if you prefer the Hybrid alternative to a longer iron, then Ezone Elite is definitely worth trying.
We at Duncan Lambert Golf, are a recognised Yonex Custom Fitting Centre. Should you be interested in being Custom Fit for the Ezone Elite Clubs or the EzoneXPG clubs, then please book an appointment by phoning 01732 844022. To see how our custom fit process works, and how custom fit clubs can benefit your game, then watch the video below.