Despite having been first established in 1980, Volvik really came to prominence a few years ago as creators of multi-coloured performance golf balls that found their way into the bags of Tour Pros, including Bubba Watson and Carly Booth, before taking over the world of Long Drive.
Volvik have now made it's first foray into the world of golf gadgetry with the release of it's first laser rangefinder, aptly named V1.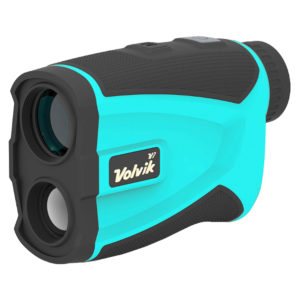 What is it all about?
The V1 features a Pin Finder function, where it is able to quickly and easy locate the flag so that the process doesn't intrude with your overall pre-shot routine, and is accurate to within 1 yard for up to 1200 yards thanks to 6x magnification.
The Slope Compensation mode, which has become commonplace among lasers in the last few years, provides adjusted yardages depending on elevation changes to stop you flying the green or coming up way short on undulating courses. This feature can also be switched off so that it is legal for competition use.
There's also Priority First Goal technology which quickly and easily detects distances to objects in the forefront such as a bunker, and this is confirmed by a vibration so that you can be confident of your yardage when you step up to hit the shot.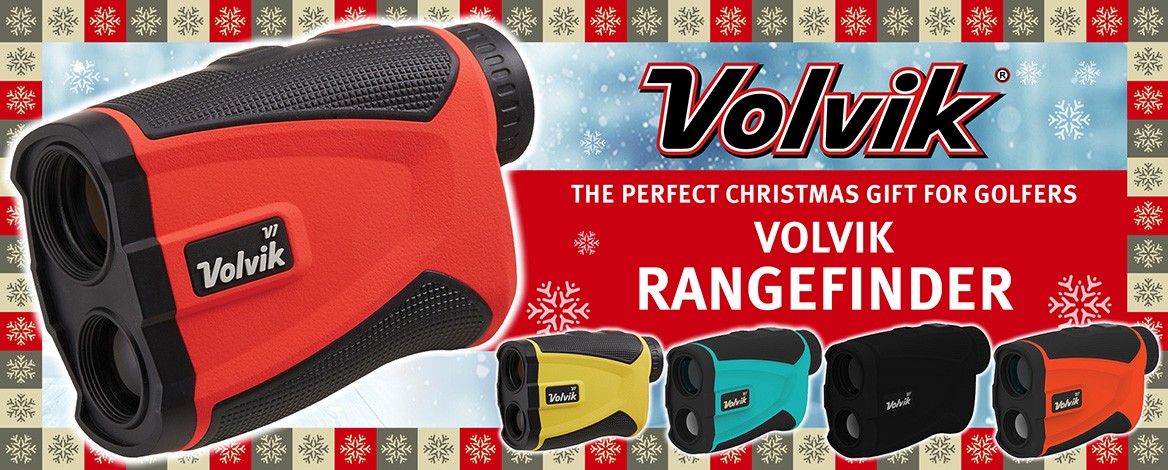 The rangefinder comes in five different colours – all-black, orange, red, yellow and mint.  With a price-point at £199 this is also a product which may attract junior golfers or newcomers to the game, and so the bold colours could go down well with these people looking to stray away from traditional stuffy golf styling! The design is simple but it looks pretty fun and the sturdy case it comes with is very smart too.
Key Features
– 'Priority first goal' makes it possible to measure the distance to the nearest hazard
– High-quality viewer with 6x magnification and multi-layer coating for a clear image
– Large eyepiece allows for comfortable viewing even with glasses
– Compact and lightweight – approx. 125 grams (without battery)
– 'Slope compensation' feature when measuring distances
– Accurate to within 1 metre under normal circumstances
– Includes zipped carry case with carabiner & cleaning cloth
– Measuring range from 5 yards up to 1200 yards
– Swap measurements between Yards and Metres
– Dimensions 105mm x 72mm x 38mm
– Available in Black, Orange, Mint, Red & Yellow
– Auto power off after 10 seconds
– Includes CR2 Lithium battery
– Ergonomically designed
– Battery life indicator
– Vibration indicator
– Pin Finder function
– Water resistant
What do Volvik have to say?
"We are excited to bring the hi-tech V1 rangefinder to the UK market at an unrivaled price," said Tony Fletcher of Brand Fusion International, the company distributing Volvik products in the UK. "The high level of accuracy, plus the user-friendly and ergonomic design, allows golfers to more efficiently find distances to their selected targets."
Where can I buy one?
Duncan Lambert is a stockist of Volvik V1 both in store and online. Visit our GPS Section online where you will find the Volvik V1 Laser.