Last year's Masters, saw the infectious Spaniard; 'Sergio Garcia' beat European compatriot Justin Rose in a play off. For Sergio, it was a first Major win in 74 attempts. He banished his daemons with the putter and tamed Augusta National. Which player this year will be able to tame 'Amen Corner?'
Meet the Defending Champion
Sergio Garcia – A magnificent victory. 
On 9 April 2017, in his 74th major championship, García broke through and won the Masters Tournament with victory on the first sudden-death playoff hole against Justin Rose .García became the third Spanish player to win the Masters, after Seve Ballesteros and Jose Maria Olazabal. The victory also came on what would've been Ballesteros' 60th birthday.
García shot rounds of 71-69-70 over the first three rounds to enter the final round at six-under par and in the co-lead with Rose, who played together in the final group. This represented García's second career 54-hole lead/co-lead at a major championship, after the 2007 Open Championship. García began the final round strongly, with two birdies on his opening three holes and he forged a three shot lead early on. Rose came back though and following bogeys on the 10th and 11th for García, Rose opened up a two shot lead.
The 13th hole was then pivotal, as García scrambled a par and Rose missed a short birdie putt to keep the gap at two shots. García would then birdie the next hole and eagle the par five 15th to tie Rose with three holes remaining. They then both hit their tee shots at the 16th close, but only Rose converted, to again lead by one. Rose however would make a mistake at the 17th, leading to a dropped shot and meaning both players were tied going up the 72nd hole. Both players hit their approach shots close on the 18th green, but Rose burnt the lip with his birdie putt. García had a five-foot putt to win the tournament in regulation play but pushed it right resulting in a playoff as both players finished level on 9-under-par after 72 holes.
Playing the 18th hole again, Rose hit his tee shot into the pine straw, meaning his second shot was blocked off by trees, so could only advance his ball 50 yards or so. He played his third to a similar area of the green he had during regulation play. García fired his approach to within twelve feet. Rose's putt for par then missed on the left side of the hole, leaving García with two putts for the win. He only needed one, as he holed his birdie putt for his first major championship.
Meet the Contenders
Tiger Woods –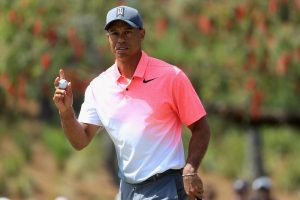 2018 has seen a resurgent Tiger Wood, ave 3 top 10 finishes on the PGA Tour in America. Whilst his driving has been undoubtedly a little offline, his short game has been impeccable and a reminder of Tiger at his pomp. Tiger has won 4 times at Augusta and will be looking to claim a 15th Major at Augusta. His last win at Augusta came in 2005.
Justin Thomas –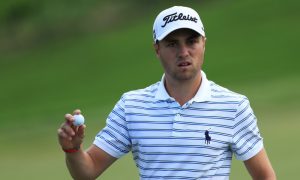 2018 saw Justin Thomas just miss out to Phil Mickelson at the WGC in Mexico in a play-off. Thomas had been even par for the tournament after the first two rounds, but then shot 62-64 over the weekend for a total of 16 under par. This included a remarkable finish to his final round, when he holed his second shot to the 18th for eagle. Thomas lost the playoff to par, after going over the back of the green in the first extra hole and failing to up and down for par. Thomas moved to number two in the world rankings, a career best ranking. He is one to watch and will be looking at to his sole Major Victory from 2017.
Dustin Johnson –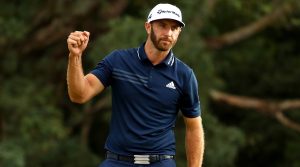 Dustin missed last year's Maters after the infamous 'stair-gate' incident. He will be looking to be add to his Major victories. He is the current World #1. He also has five World Golf Championshop victories, with only Tiger Woods  having won more, and he is the first player to win each of the four World Golf Championship Events. He is one of the longest drivers on the PGA Tour, having been ranked in the top five annually from 2008 and leading in 2015.
Jordan Speith, Phil Mickelson, Jason Day and Justin Rose will also be looking to add to their previous Major Wins and all pose a major threat to Sergio's defense.
Predictions from the Professional Shop
Duncan Lambert – "JUSTIN ROSE"

Ashley Roberts – "Hideki Matsuyama"

Michael Townsend – PHIL MICKELSON
Lewis Dossetter – "JUSTIN THOMAS"
Christopher Wood – "TIGER WOODS"
 THE GREATEST SHOT EVER?

Most people can remember where they were, or where they were watching when Tiger famously chipped in at the 16th in 2005. As a little taster befoe this year's Masters let's take a look at what's been touted as the greatest golf shot ever.
Remember to enter 'Our Masters Competition.' Simply email the player you think will win and their winning their score. All answers to be emailed to info@duncanlambertgolf.com. The lucky winner of the competition will receive a free 30 minute Golf Lesson, from one of our PGA Professionals. Good Luck. Entries must be submitted before the first tee off time on the Thursday.